Air purification in schools
"Teacher, could we close the window?" is one of the most frequently asked questions in education that a teacher has had to deal with in the past year. A discussion often follows, in which the teacher must make a decision between increased risk of virus contamination and a comfortable learning environment for the students.
According to scientists, professors and the World Health Organization, this discussion is completely unnecessary, because with the right air cleaning systems, the risk of contamination in classrooms is up to twelve times lower.

Actively purifying the room with regular ventilation (such as in the breaks between lessons) is the most efficient way to create a safe learning environment.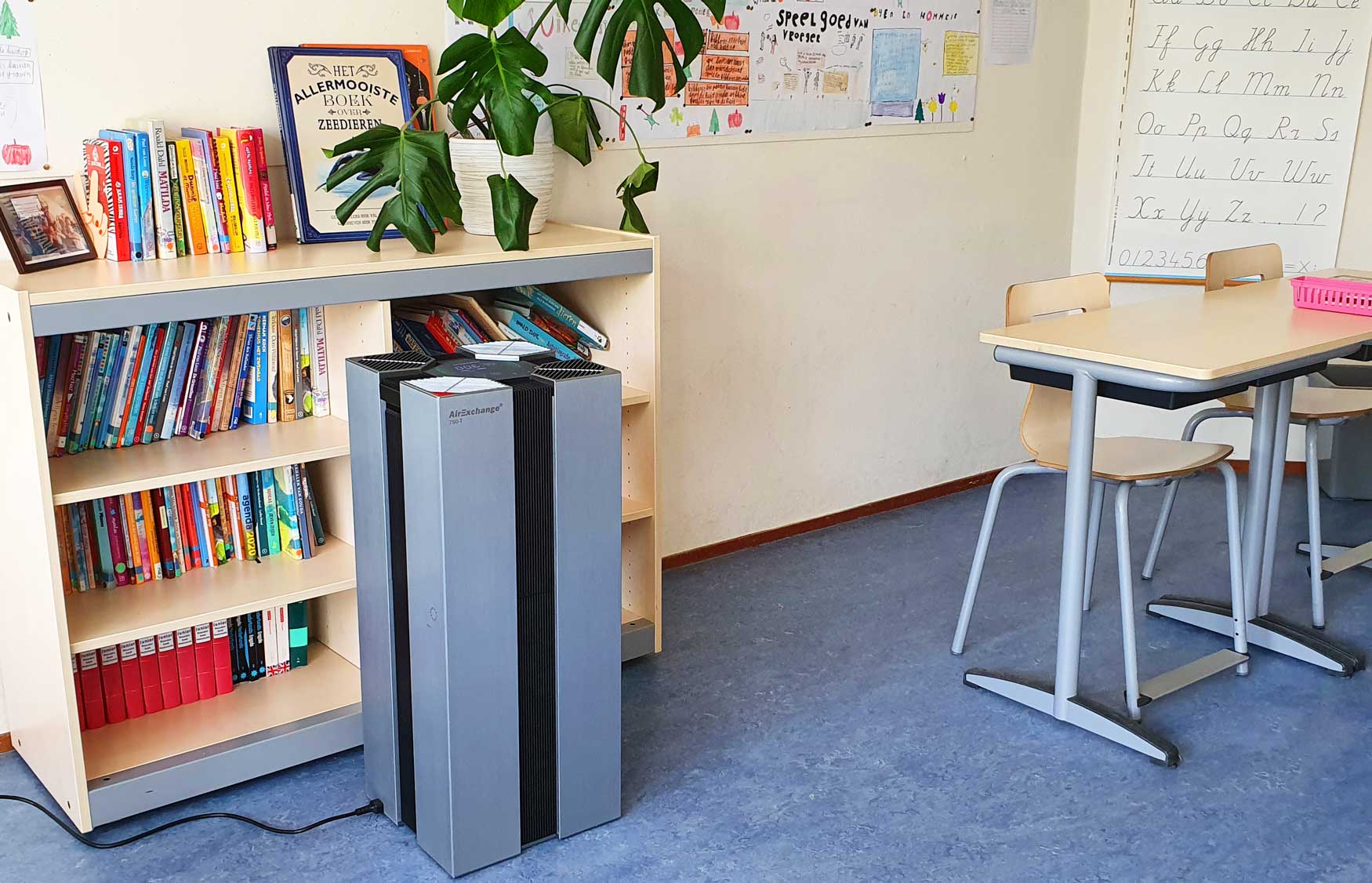 The benefits of air purification in classrooms
There is a good reason that air purification is more often in the news the last year. The government and municipalities have placed good indoor air climate in schools very high on the agenda.
In many situations the ventilation in school building is not sufficient to ensure a good indoor air quality. Educational institutions are often faced with the choice of upgrading the existing ventilation system. However, a new ventilation system is a very large investment and this is not an option for most schools, even with the available subsidies.
Compared to adapting existing ventilation, the costs of air cleaning systems are many times lower, with impressive results. This affordable solution helps to protect the health of you, your students and your colleagues by actively cleaning the work and learning environment of viruses, bacteria and other harmful substances.
How do I choose the right air purifier?
The effectiveness of an air purifier and the number of harmful particles that the system can purify completely depends on the structure of the filter combination and the cleaning capacity of the device. 
More people means more air pollution. Classrooms are large spaces where dozens of students sit together for long periods of time, so it is recommended that the air is filtered several times an hour.

AirExchange® specializes in professional air cleaning systems with a high cleaning capacity (Clear Air Delivery Rate). Due to the unique filter combination of medical HEPA filtration and UV-C light treatment, the systems are able to clean more than 99.995% of harmful substances (including COVID-19) in one filtration cycle.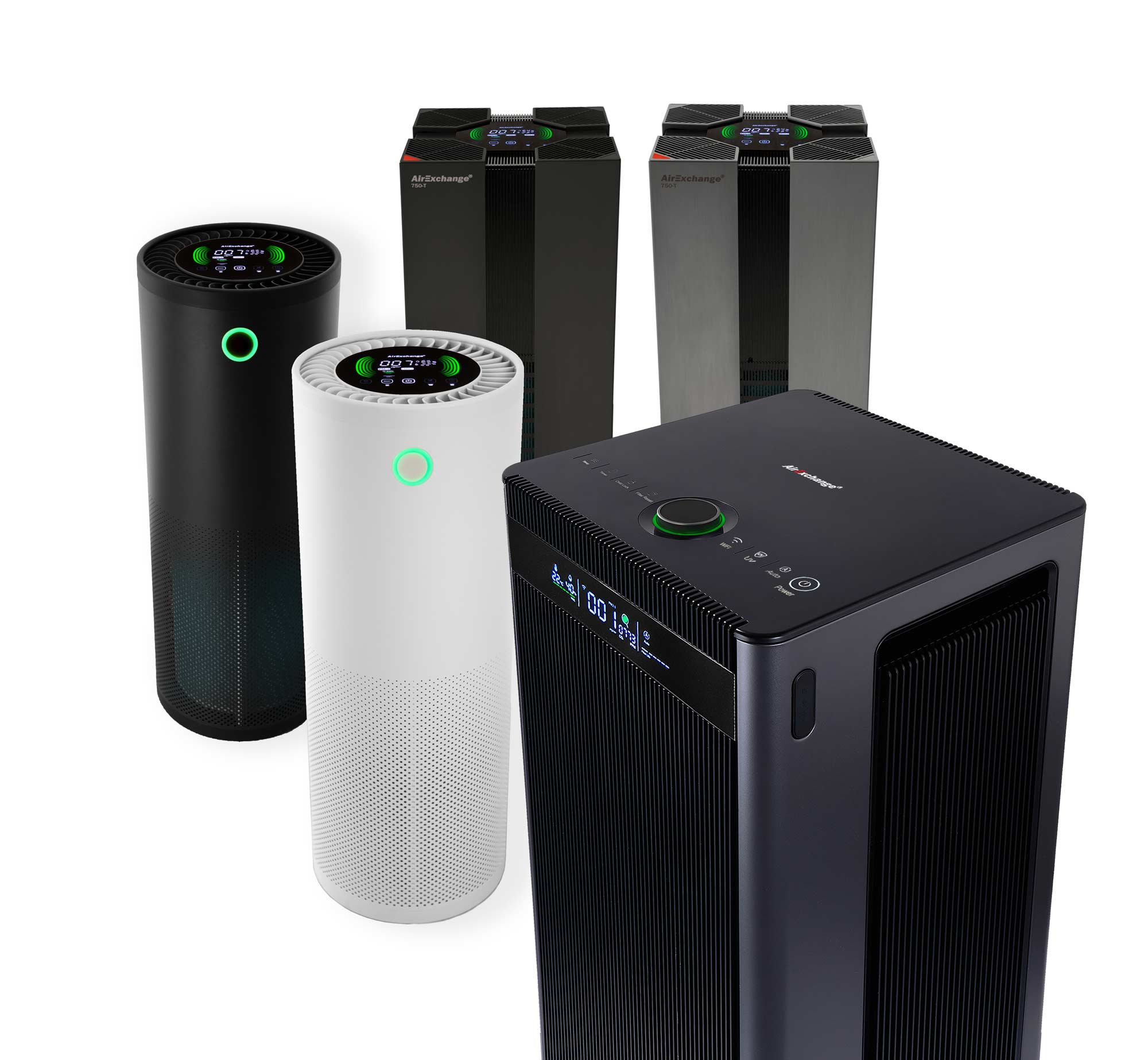 The professional specialist in air purification
Improving air quality in schools while reducing contamination rates to prevent future lockdowns is our most rewarding work. We see ourselves as the specialist in the field of air purification and our goals is to help you create the cleanest learning and working environment possible, so that students, teachers and parents feel safe again to enter the classroom.
A tailor-made solution for every room
Air purification systems are not only suitable for classrooms, but they can also be used in areas such as canteens, meeting rooms and offices. This way, they help to clean virus particles everywhere at school and thus reduce the risk of contamination with COVID-19.
Every school building is different; from the number of rooms to the way the ventilation system works. Each room therefore deserves its own advice.
We like to think with you about the air quality in every room, where we jointly come up with practical solutions to ensure a healthy and safe indoor climate in the entire building.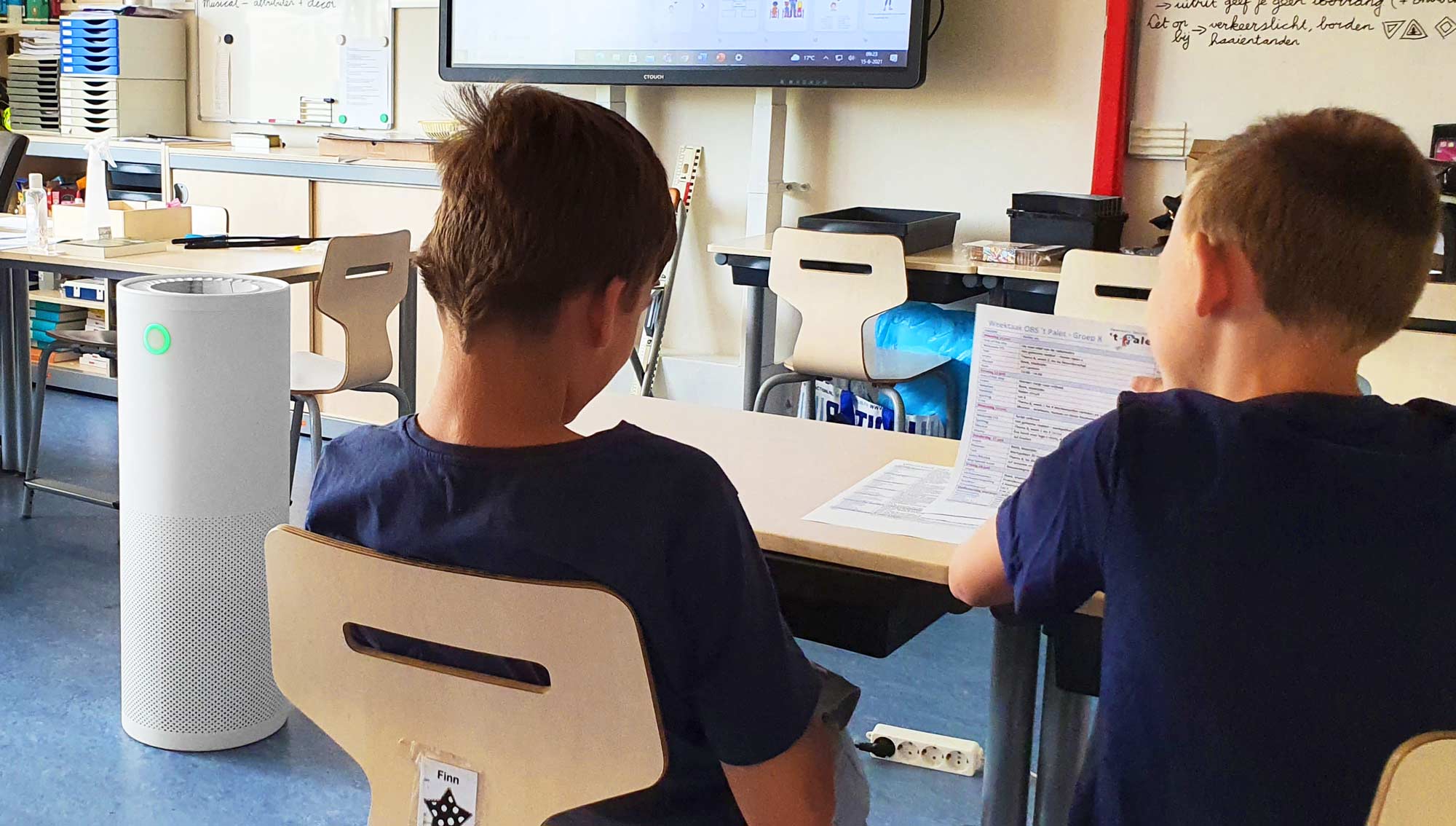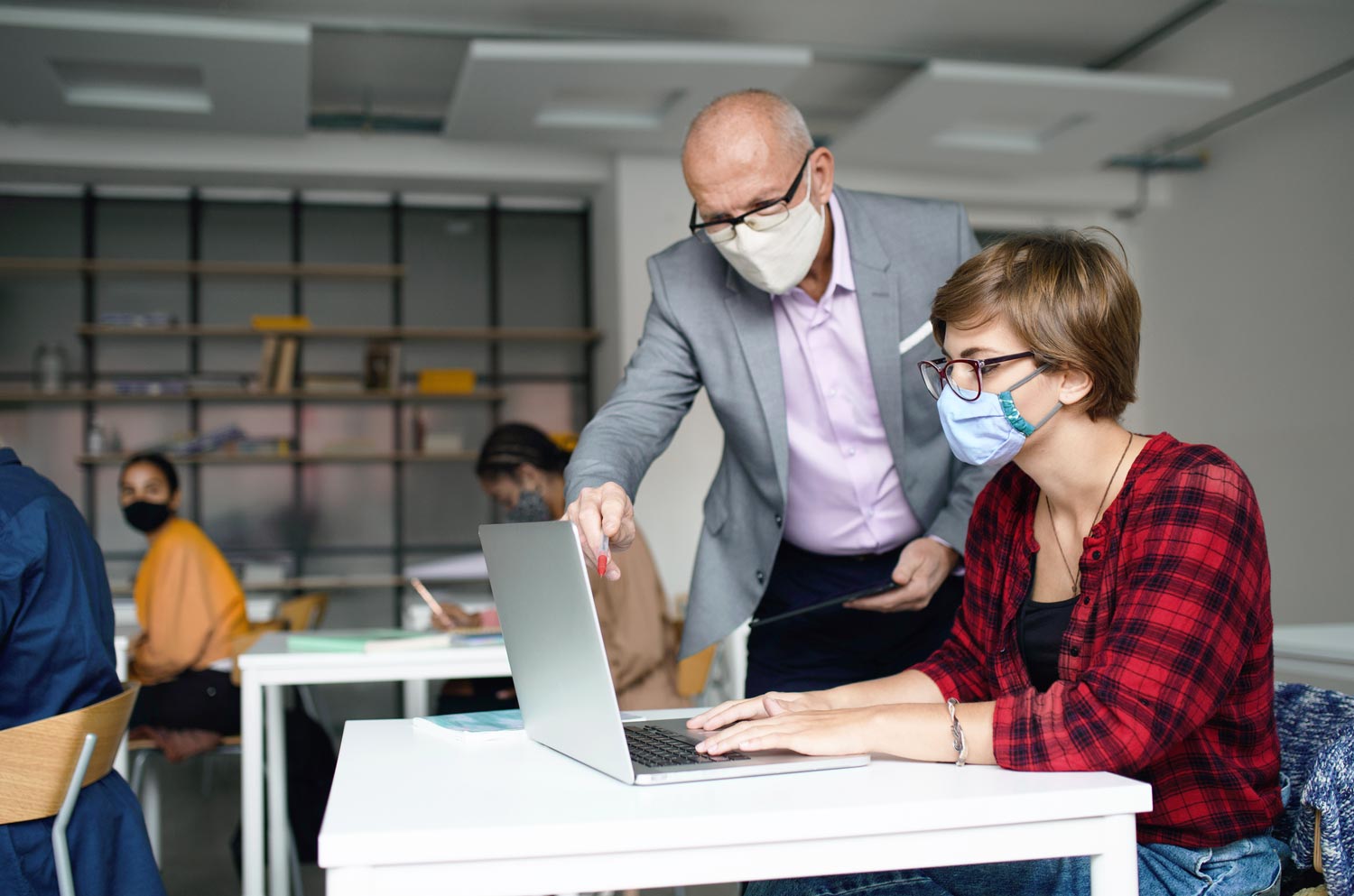 Many schools have to deal with a limited budget, where investing in safety is not so easy. That's why we offer several options to finance your project.
With our smart lease plan, we offer the option of renting the air cleaning systems for a fixed price per month. You can already rent an AirExchange air purifier for as little as €1.30 per day.
The breakdown of CO2 compounds is only possible through photosynthesis. This is the process by which trees and plants convert energy from light, water and carbon dioxide into oxygen and glucose.
Air cleaning systems do not use photosynthesis and therefore do not contribute to the reduction of CO2-level. The only efficient way is to remove the CO2 -concentration is by using ventilation. 
To combine ventilation with air purification, there is the AirExchange® 1500-VT. This system can supply fresh outside air and clean the air in a room at the same time. 

The result? A low CO2 level and a healthy indoor climate without harmful substances!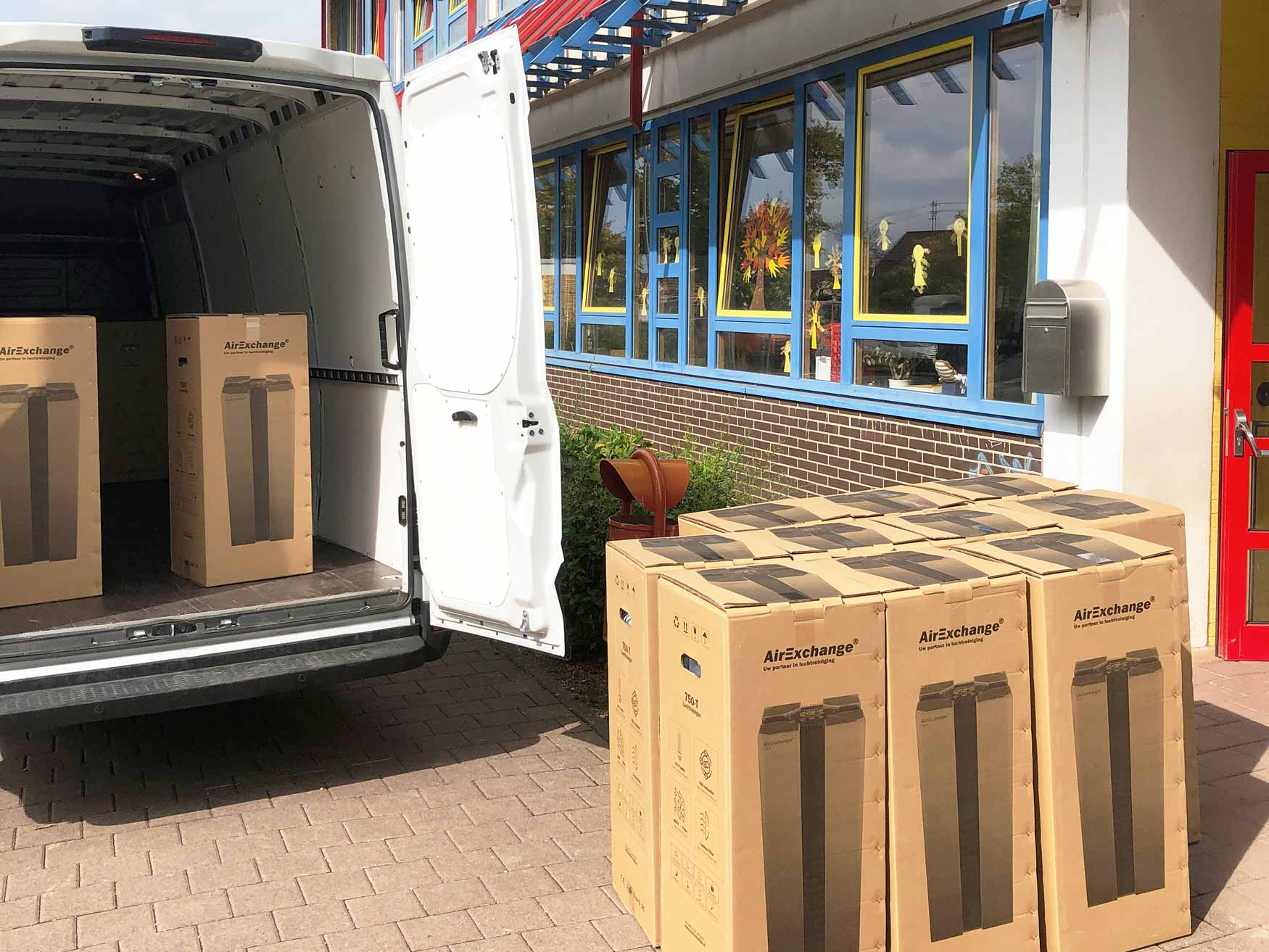 All our products are delivered directly from our warehouse in Gouda. The entire range is plug-and-play: plug in and the system is immediately ready for use!
Would you rather have that we place the systems at the desired location within the school? No problem! We will arrange the installation, completely free of charge.

Team AirExchange® is also able to assist you for periodic filter replacement.
Would you rather do this yourself? That is possible and very easy to do! The filter can be replaced in just 2 minutes.
Our unique features for education: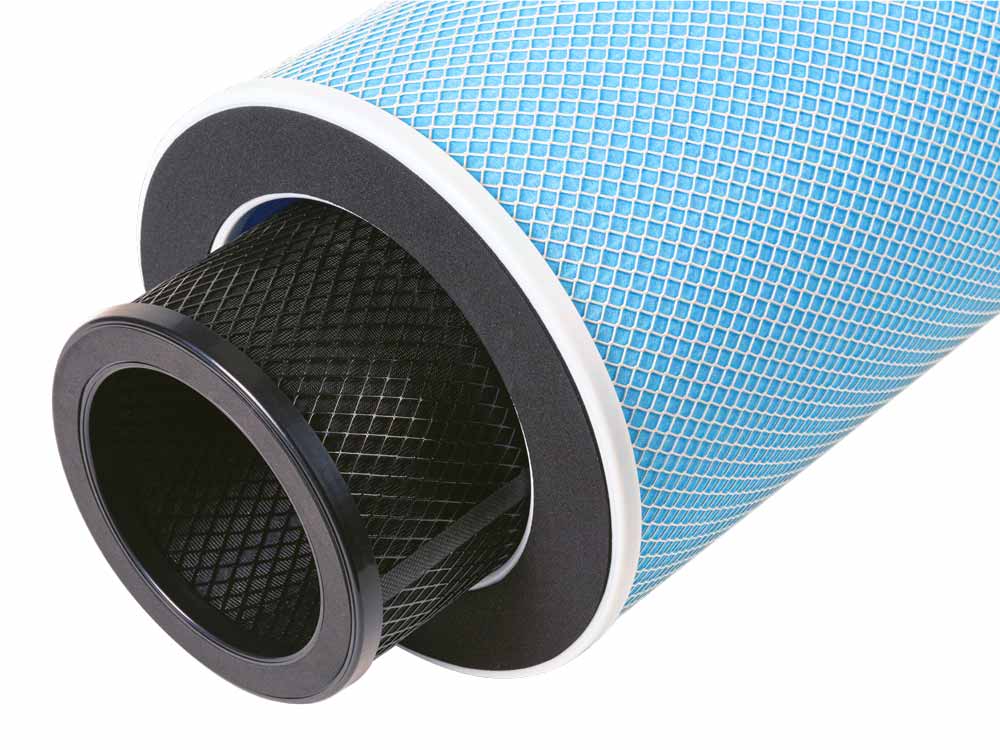 The AirExchange® air purifiers are equipped with a medical class filter combination, which enables the devices to purify rooms with an efficiency of more than 99.995% per filtration cycle.
Due to the large cleaning capacity, our systems clean classrooms and other large spaces at lightning speed from virus particles, bacteria, (ultra) fine dust, pollen, gases and other harmful substances, resulting in safe learning environments.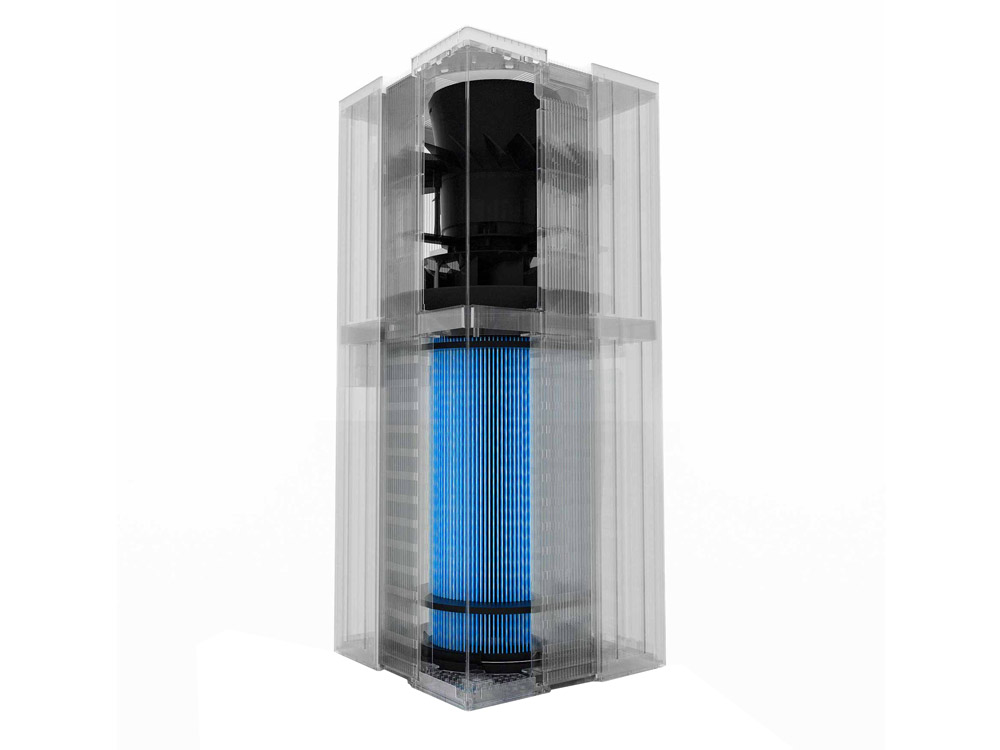 Extremely quiet operation
To to the unique build-up, our systems operate at a very low noise level.
This is ideal for areas where concentration and silence are necessary, such as classrooms and offices.

Our air cleaning systems have been specially developed for rooms where mulitple people come together. They can clean every corner of the room without the people present being bothered by side effects such as draft.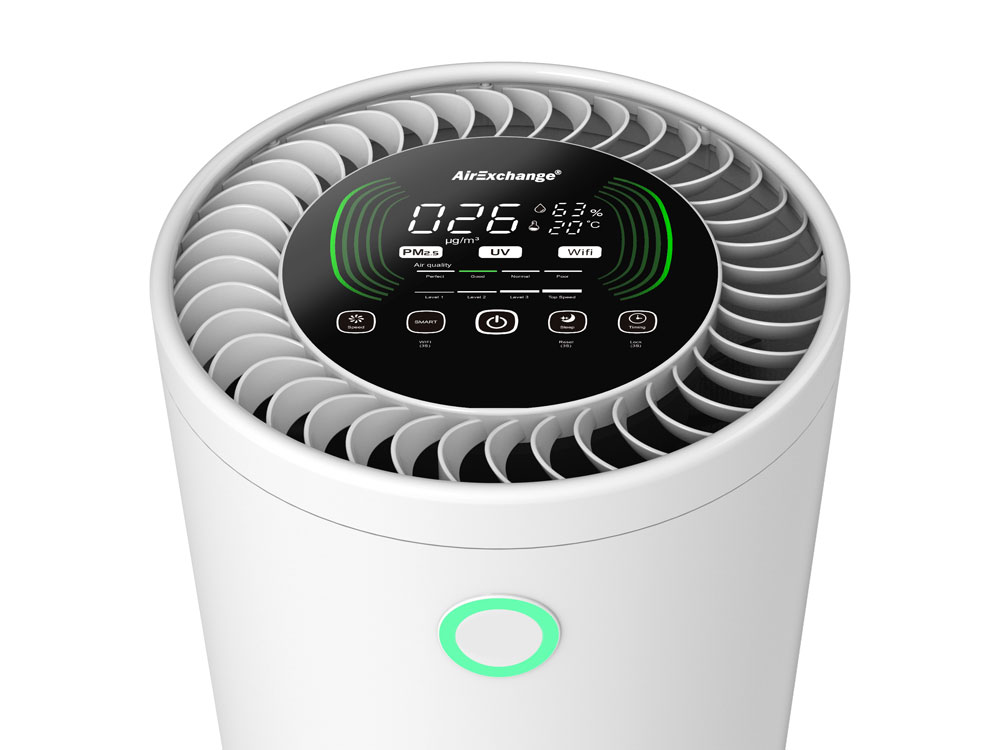 The systems are equipped with highly accurate sensors that measure the air quality several times per second.

The cleaning program is automatically adjusted based on this measured data. This ensures that the air quality in the room is always optimal.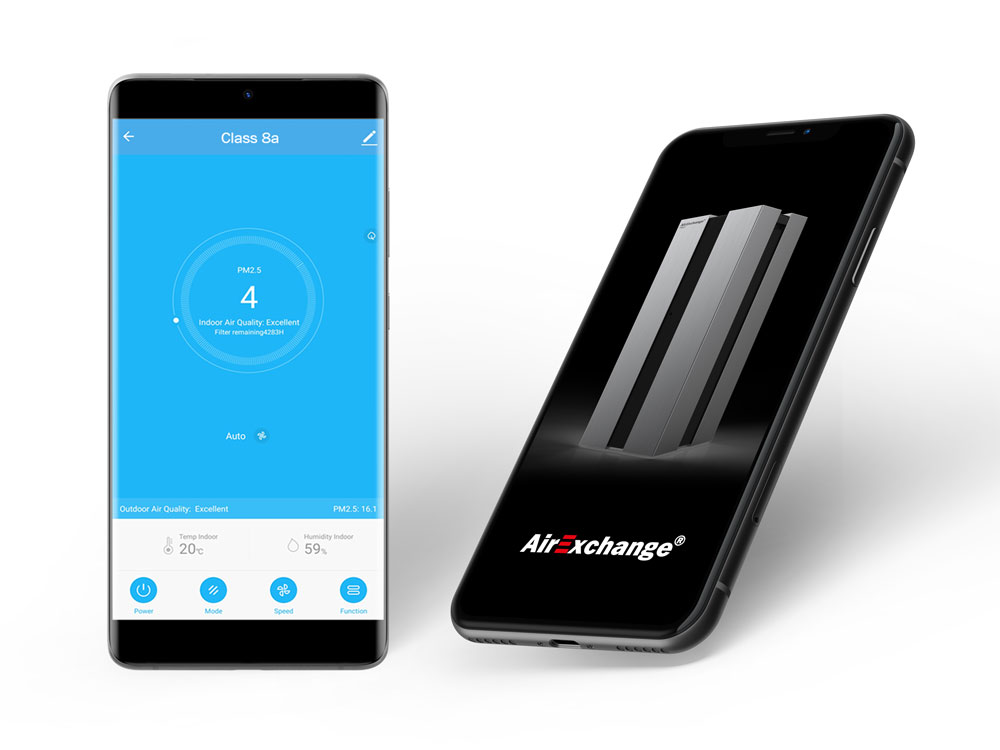 With the help of our handy application, multiple systems can be managed with one device. This makes it easy to operate and read the measured data remotely.
It is also possible to set an operating schedule that automatically turns the devices on and off at the desired time.
Maximum safety guaranteed
User safety is our top priority. That is why our systems have been extensively tested by independent, accredited test institutes. Our products are in compliance with the strictest requirements and standards for product safety and the release of harmful by-products, such as ozone gas.  

For this reason, our air cleaning systems are extremely safe for use in classrooms.
In addition to maximum safety, we have also looked in detail at the airflow during the development of the systems. Due to the unique design, people present are not bothered by drafts.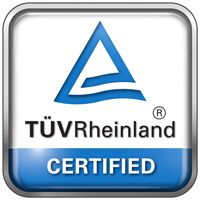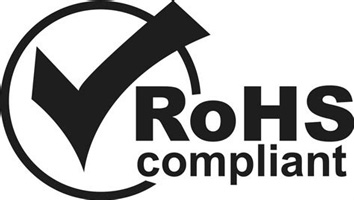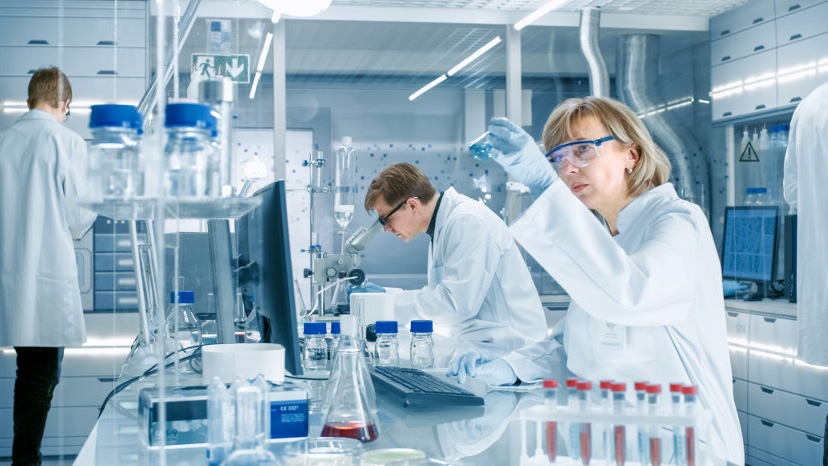 Schedule a free trial placement
We can tell you about the benefits of air purification, but experiencing it yourself is much better. That is why we offer a trial placement of our AirExchange® air cleaning systems, completely free of charge. 

During this 4-week trial period, we will assist you in measuring and monitoring your air quality by using our smart measurement sensors. At the end of the trial placement period, we will share all the measurements with you, so that you can see the clear effect that air purifiers have on your indoor air quality.